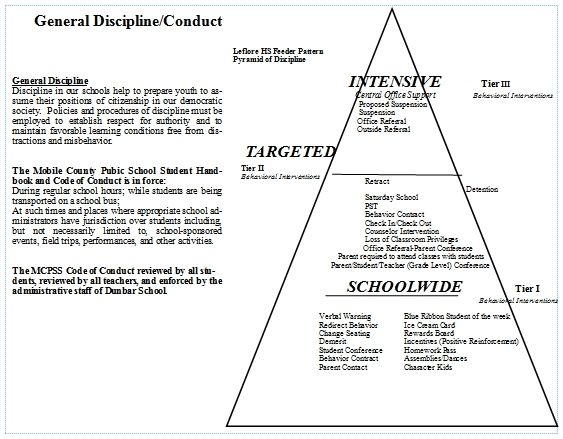 Discipline Procedures
Inappropriate behavior will be addressed immediately and may result in removal from the Magnet Program. Please read carefully!
Leflore High School Feeder Pattern Discipline Plan
2015-2016 Discipline Focus: Improve student behavior while decreasing suspension days (loss of instructional time)
Feeder Pattern Concerns:
o Bullying
o Students lack of respect for teachers, peers, and self
o Excessive tardiness to school
o Failure to follow the Dress Code Policy
Unprepared for classes
Feeder Pattern Student Expectations:
o Students will arrive on time and be prepared for class daily
o Students will follow the Code of Conduct as required for all students enrolled in MCPSS
o Students will respect teachers and staff, self and others, and facilities
o Students will follow the Dress Code Policy for their school
Feeder Pattern Teacher Expectations:
o Teachers will implement Positive Behavior Interventions on a daily basis
o Teachers will implement progressive discipline utilizing the Discipline Pyramid
o Teachers will model respectful behavior for students by interacting in a positive manner with students, staff, and administration
o Teachers will dress appropriately following the MCPSS Dress Code Policy
Progressive Discipline
o Teachers will use Tier One strategies in the classroom to address A and B offenses
o Teachers will conference with parents prior to an office referral and/or detention
o Teachers will assign and hold detention as needed
o Counselor referrals will be made as needed
o Tier II interventions will be recommended by grade level team
o Tier II and Tier III interventions may be handled by the administration
Parents are expected to support this discipline plan and monitor their child's records.